2005-05-21: Thomas Lo arrived from Brazil and met with Joseph Lam, Peter Mar, William Tang, and Francis Ip at Mandarin Golf Club in Markham, Ontario. Francis Lam and Paul Au Yeung could not attend.
1. There were exchanges of life experiences. Thomas has shared his experiences of ups and downs in life.
2. Thomas is a certified Traditional Chinese Medicine practitioner in Brazil. He gave me many valuable advices on dietary and physical exercises.
3. Joseph Lam footed the bill for the dim sum lunch at the club house dinning room.
4. It was general agreed that what you learned at school or college doesn't mean that you have to make a living with what you learn.
5. SDB is out of touch with the 21st century requirements in terms of education for the SDB students.
6. Photos received from Peter Mar on the right.
Back to Index.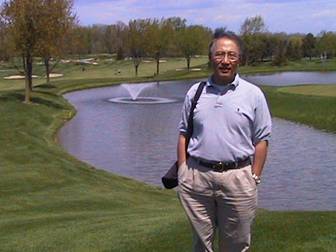 Joseph Lam on the Golf Course
Francis Ip, Thomas Lo, & Joseph Lam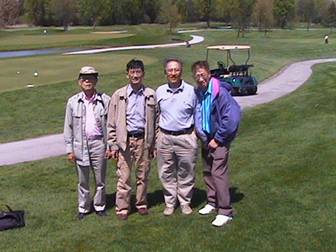 Francis Ip, Thomas Lo, Joseph Lam, & Peter Mar